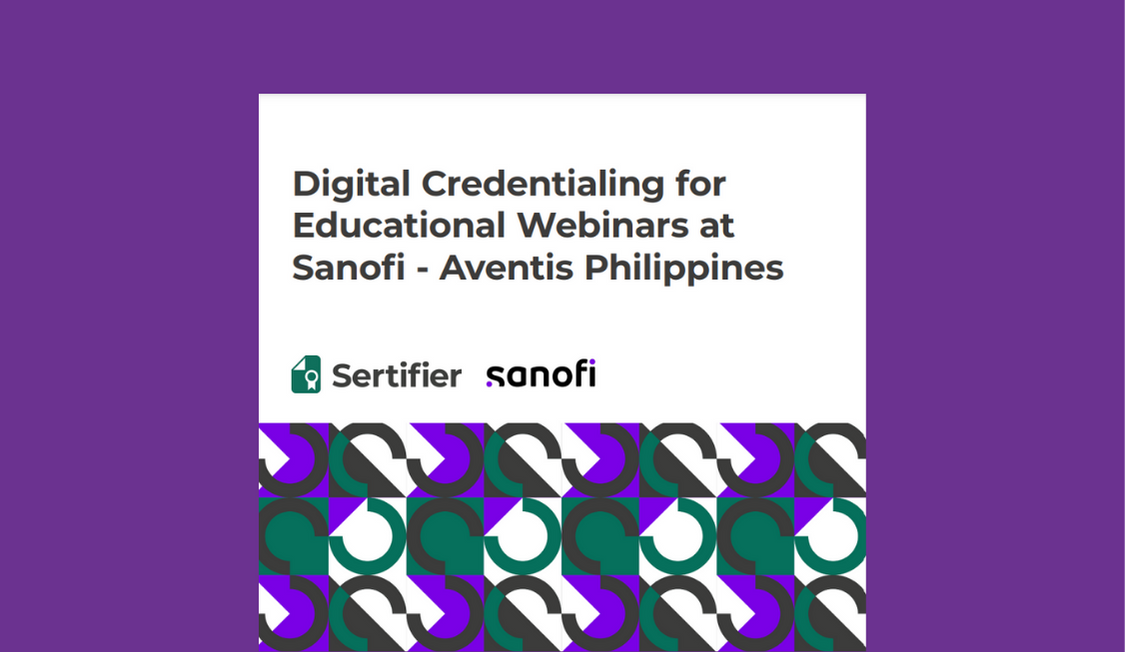 Digital Credentialing for Educational Webinars at Sanofi – Aventis Philippines
---
About Sanofi
What Was The Challenge
How Did Sanofi Decide to Work With Sertifier

Integrations
Reports & Analytics
Design
Support

Results
More About Sertifier
---
As a world-leading pharmaceutical company, Sanofi also organizes education webinars for doctors to improve health and well-being in the Philippines. The high number of participants and the intensity of the education provided created a process where Sanofi began to have difficulties in following the participants and issuing the necessary certificates to their participants. At this point, Sanofi started looking for a solution that would speed up and automate the process of issuing certificates.
Sertifier App belongs to an umbrella organization called Sertifier INC. Sertifier INC. is a big data company that focuses on creating the necessary tools to collect skill-oriented education data in one place. By doing so, the company organizes feedback and analytics using AI-powered algorithms.
In this case study, we would like to discuss how we add value to each other as two mutual institutions and how Sertifier was an excellent solution to the problems Sanofi was experiencing.
About Sanofi
Sanofi is dedicated to being a health journey partner for everyone. They transform scientific innovations into healthcare solutions to prevent and manage various medical conditions. Sanofi also stands by the few who suffer from rare diseases and the millions with long-term chronic conditions.
In the Philippines, more than 400 employees work tirelessly every day to empower the lives of Filipinos. Their activities to increase access to healthcare also involves medical professionals' education. At this point, Sanofi provides education webinars that reach thousands of participants throughout the year in order to create value in the field of health in th Philippines. As a result, it presents certificates specially prepared for them.
What Was The Challenge?
Before meeting Sertifier, Sanofi had difficulty tracking its attendees and sending their certificates. Sanofi had a team that worked to manually issue and send the certificates in PDF format after the webinars. However, sometimes the webinars overlapped or a large number of participants prevented the team from catching up with the process.
What Sanofi Philipinnes realized at this point was that they needed a Credential Management System that would make the certification more manageable easier and automatized. Therefore, Sanofi was prompted to search for digital credentials management services in the market.
How Did Sanofi Decide to Work with Sertifier?
Sanofi went through an intensive research process while looking for a Digital Credentials Management System. While reviewing many applications related to certificate generation, they also found different contacts along with Sertifier. After Charles Arevalo, CME and Digital Activation Manager from Sanofi, took a look at many tools and evaluated Sertifier and its competitors, he stated how they started to work with Sertifier was as follows:
"I have contacted each platform, even the competitors. Sertifier reached out and responded immediately and came up with a quick solution."

-Charles Arevalo, CME and Digital Activation Manager
After a brief onboarding process, Sertifier started to work with Sanofi to provide them with a solution to send and share their certificates easily.
How Was Sertifier Helpful?
Sertifier offers integrations with platforms such as Moodle, Zapier and Canvas LMS, and for Sanofi, it was Zoom where they conduct most of their webinars, especially during the pandemic. Sanofi organizes many webinars during the year, with thousands of attendees. These webinars require issuing entirely different certificates for thousands of attendees and prompt delivery. However, this required Sanofi to devote significant time and labor to this task. Sanofi had to do it entirely manually before starting to work with Sertifier.
Sanofi had a team to identify certificate recipients and issue and send certificates. But for this team, it was challenging to keep track of things during periods of intense education webinars. Sometimes they even had to limit the number of participants considering the cost of certification. After meeting Sertifier and thanks to our Zoom integration, identifying recipients and generating customized certificates in their names turned into a process that took only a few minutes.
"It is quite easy to extract the recipient lists from Zoom. This way, we can prepare the certificates in advance and send the certificates to the participating doctors even before they leave the venue."
Sertifier constantly develops and renews itself in line with the requests and needs of its customers. Sertifier is now available directly in Zoom Marketplace. At this point, Sanofi will no longer have to deal with adding recipient names to app.sertifier and will be able to display all recipients directly on their page!
Among the services offered by Sertifier, one of the most used was the Analytics & Reports feature by Sanofi. Sertifier's Analytics & Reports feature automatically tracks data and provides errorless information for your company regarding the certificates you've issued: How many certificates have you sent? How many unique recipients do you have? How many times have your certificates been shared? You can find all the answers thanks to this feature.
The Analysis & Reports feature for Sanofi, which they think was easy to use and track, has been very useful in providing accurate data about the education processes, providing inside information that they can use in team meetings and in making new decisions based on the data they have.
3. Design
One of our biggest goals for Sertifier is to provide an easy-to-use panel for our users. It was essential to us to keep the design of our app clear and straightforward. This feature was also especially useful for Sanofi.
Sertifier's certificate design page is easy to follow and understand even for beginners has saved Sanofi a lot of time. In addition, dozens of certificate designs offered by Sertifier have also been a desirable feature for Sanofi. Thus, while the time they will spend on the design process is reduced to almost zero, getting these nicely designed certificates has created a good experience for the attendees.
"Design tools are very easy-to-use, not confusing. And you have beautiful designs. Our participants actually want to keep their certificates and promote them on their social media accounts. This helps a lot."
4. Support
From the first day of sertifier.app until today, one of the most important things for us has been to provide our users with the support they need at all times. Starting from onboarding, we tried to be there for our users every minute they spent with Sertifier, every problem or request.
At this point, Charles Arevalo from Sanofi said that they never hesitated to contact Sertifier for any of their needs. They always encountered a responsive and helpful team to address their issues.
Results
During the Covid-19 pandemic, Sanofi had to organize online webinars instead of face-to-face seminars for doctor education in Philippines. This change required them to provide a strong digital engagement with their participants. They started searching for a digital credentials management system because they wanted to keep their relations with the trainees strong and make the certification process more manageable and cost-effective, which used to be a waste of time and resources for them. At this point, as Sertifier, we met with Sanofi and started to work together without losing time.
The certification process is easier and cheaper than ever before with Sertifier! Sanofi can now automatically generate certificates and individually send them to the recipients within minutes. Providing a significant labor reduction for Sanofi as well as a better experience for certificate recipients, Sertifier enables its recipients to receive storable, shareable and secure certificates in a concise time and use them at every point of their professional life.
More About Us
"So far, using the platform was really beneficial to the company. It is an easy tool to use. You can provide excellent post-event services to your customers!"

Charles Arevalo, CME and Digital Activation Manager
Sertifier rapidly continues its efforts to add value to educational technologies with the digital credentialing management software it has created for institutions, academies and schools. In this document, we tried to share our journey with Sanofi Philippines. In this adventure, we are grateful for having the chance to help Sanofi as they are constantly improving healthcare in Philippines.
Sertifier aims to be the most cost-effective and easy-to-use digital credentials management software with increasing integrations and more advanced features.
You can always contact us to get more information about Sertifier. If you liked what you read and think Sertifier might be a good solution for you in a similar case, let's schedule a demo meeting and get to know each other better!
For demo requests, please reach the link below: