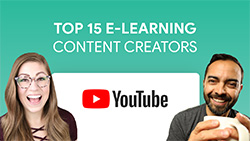 The internet is a place where you can learn to do anything. You can even learn how to teach! And these YouTube Content Creators are providing completely free learning content for those who want to further their teaching skills or e-learning businesses! Whether you are an e-learning business owner or a trainer who wants to learn tips and tricks for remote learning, these YouTubers got what you need! Here are our Top 15 picks for e-learning based content creators on YouTube:
1. Pocketful of Primary
Pocketful of Primary has been around since 2015 and has over 42 million views at the moment this blog is being written! Not only is she one of the OG content creators in this area, she also has some very nice tips for current educational trends such as remote learning. Check her out and show her some love for all the good work she has done for the learning community!
2. Tim Slade
https://www.youtube.com/watch?v=-gbv2Bl0Df0
Tim Slade, although not as known as some other content creators in this list, has some great e-Learning content for anyone looking to start an e-Learning business. If you are interested, you should definitely check his videos out!
3. Ant Pugh
Ant Pugh is the master of freelance e-Learning businesses. His story on how he got started with YouTube and freelancing is also great and he has some really insightful videos on this topic. We don't want to spoil any videos, definitely check them out for yourself if you are interested in freelance e-learning!
4. Susan Jones Teaching
Susan has been an educational resources blogger for 8 years and has been doing YouTube since 2017! She has some of the best tips, ideas and activities you could hope for. If you are feeling stuck on something, check her videos out and she just may become your muse!
5. Teachings in Education
Teachings in Education is a channel that's full of guides and resources for educators. To top it all off, this channel is filled with great animations and editing that make understanding the subjects or tutorials much, much easier! If you need a quick guide, this is the channel to go!
6. Early EDventures
Early EDventures is a teacher that vlogs her daily life! We don't often get to see into the lives of teachers and how they get ready for classes, what kind of teaching strategies they use, so this channel gives a lot of insight to the behind the scenes of education. If you need a more casual, life-style type content creator, she is what you are looking for!
7. That One Happy Classroom
Fernanda is a 24 year old teacher who teaches younger students! She has been sharing her amazing journey, so if you want to learn how to teach younger students, her videos might inspire you a lot!
8. John Spencer 
John is a professor we adore. His content is much very polished and he is able to give a different perspective to any topic he talks about. His video on Distance Learning is an absolute eye opener! His content deserves so much more views, you should definitely check his videos out.
9. Mr and Mrs Social Studies 
This is a channel created by 2 passionate teachers who create both informational and narrative content! They are always fun and easy to watch but can take a more serious look at issues and important subjects. Any teacher/trainer should be subscribed to them!
10. Patta Bhattacharya
Patta may be the least known creator out of everyone on our list but he deserves so much more attention! His content is filled with information and is very straightforward. He also has a lot of different tutorials that might benefit you. Show him some love!
11. Pat Flynn 
Pat is one of the most likeable and creative people on YouTube! His production value is great and each video, while being about many different topics, fits into his brand so well, anyone who wants to create e-Learning videos has a lot to learn from him! 
12. Amanda Rose
Amanda is one of those teachers who you can't not like! Her passion for teaching shines through in her videos and you can just tell how talented she is at interpersonal skills.You should check her videos out, especially if you are a fairly new teacher/trainer.
13. E-Learning Uncovered
This channel is an absolute treasure for e-Learning businesses. If you need any help, need any tutorial or idea, you can just go through a few of their videos and you'll have what you need. Though they have been inactive for 4 months, their content still holds up and we'd love to see them continue creating content, so show them some love!
14. Ashlee Espinosa
Ashlee is simply put, amazing. Check out any video by her and you'll fall in love with her confidence, her soft skills and her passion for teaching. She is also an actor, which feeds into her videos so well. Her content is funny, informative and motivational. We are always looking forward to her new videos and so should you!
15. Andy – The ESL Guy
Andy is… Well… The ESL Guy! His content is based around "English as a Second Language" teaching and is really innovative! This man knows how to use the internet and especially games to teach and every teacher/trainer and the e-learning business owner looking to learn the best games for teaching needs to check out his videos!
That is all for now, hope you enjoyed this blog! Did you already know any of these YouTubers? Which one of them did you subscribe to after reading this blog? And most importantly, did we miss any e-learning content creators? Please let us know in the comments! Also if you are looking for more educational e-learning content, don't forget to check out our other blogs at our blog site!