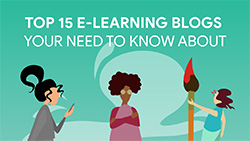 The blogosphere is a place where you can learn to do anything. E-Learning is one of those things! And these blogs are providing completely free e-Learning related content for those who want to further their teaching skills or e-learning businesses! Whether you are an e-learning business owner or a trainer who wants to learn tips and tricks for remote learning in 2020, these blogs got what you need! Here are my Top 15 picks for e-learning based blogs, note that they are not in any particular order:
TOPYX is an absolute treasure for those who are looking for resources on LMSs(Learning Management Systems) and Employee Training. They have been covering e-learning content heavily with the effect of the pandemic.
Dashe & Thomson blogs and resources cover everything you may need about Corporate Training. Any company can benefit from these resources even though they specialize in e-learning.
I almost feel like eLearning Industry doesn't even need a mention, but it's surprising how many people are still clueless about this website's existence! If you have no clue on where to start with e-learning, this is where you start. If you have a clue of what you are doing, this is still, where you start. Read every single blog eLearning Industry publishes.
If you've ever had a digital problem and went on YouTube, you may have noticed that the person that usually solves your problem effectively is, most likely Indian. So you can trust me when i tell you this, Indians know their stuff. E-Learning is no exception. I also suggest you check out the free webinars, e-books and guides on their site!
By Craig Weiss blogs are one thing and one thing only, insightful. On the mission to reveal "the truth and realities of e-learning", By Craig Weiss leaves no topic unexplored. If there is something new emerging, this blog will tell you all about it.
Design is how you tell your story. A good design can result in a miscommunication and a good design can elevate your e-learning business to higher grounds. These fun and innovative design tips are all you need if you are looking to improve the design aspect of your e-learning business!
This blog is compact and filled with information. Simplicity and minimalism is what it's all about. There are great minds behind every single blog and if a blog interests you, I suggest you check more of that author. I have been really enjoying the latest blogs of Shelley for example, and of course, Dean Hawkinson is brilliant. And that's just two of them!
Connie(The eLearning Coach) is amazing! The most unique part of her blog are definitely the podcasts. She features tons of people from the e-learning industry, allowing you to take a deeper look into everything. Learn from them!
Shannon has always been the unique voice in the e-learning ecosystem, thus the name, Learning Rebels! And even though she hasn't been posting as much lately, she has an endless catalogue of blogs you can go through while we wait for her to get more active again!
Mayra doesn't clickbait. She tells you what she's gonna talk about in the title of her blog, you click it and vualá! You find yourself reading an amazing blog, full of great design, which is her specialty. We have a lot to learn from her creative design experience.
Every single blog in The Learning Guild's TWIST is a small adventure. Not only do you get your insight, perspective and ideas from their blogs but you also get a "twist" unique to each blogger. They also feature community posts!
Rob has not posted in 3 years, and his blogs still hold up! That goes to show you just how far-sighted this man is! Go through his catalogue and realize how fast the times are changing. But you'll notice, somethings always stay the same when it comes to e-learning…
If you are looking to train your employees, there are lots of blog sites that can offer you valuable information. But if you are looking to train "talent", insight is what you need, wordplay intended.
You have a problem? There is a solution! Search for any e-learning related problem you are facing and you'll find yourself a well presented blog, written by a professional from the field!
I have always enjoyed how Fiona Quigley and the team always takes a look at the bigger picture, connecting dots between e-Learning and other aspects of digital developments. This blog will widen your horizons.
That is all for now, hope you enjoyed this blog! Did you already know any of these bloggers? Which one of these blogs did you subscribe to after reading mine? And most importantly, did i miss your favourite e-learning bloggers? Please let me know in the comments! Also if you are looking for more educational e-learning content, don't forget to check out our other blogs at our blog site! Here is one you might enjoy: Top 15 Youtube E-Learning Content Creators