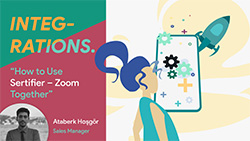 Click this link to view the post as a file.
Zoom is getting more and more attention among e-learning content providers with its webinars, stabile video quality and easy to use user interface. In order to make life easier for the content providers using Zoom we have prepared this document, explaining the methods of integrating it with Sertifier. If you still have questions, you can reach us via support@sertifier.com.
Create a poll during your Zoom meeting or webinar
You can do a poll in Zoom with which you can basically create a questionnaire for all of your attendees. If your webinar or meeting is setup "registration on", this means that every applicant who joined the pollwill be enlisted with their name and email information on the response document. You can copy these columns and paste them to the template excel sheet you can download from Sertifier. Then, you can import them back on your receiver lists. For more information on Zoom Polls, please visit this page.

Send Google Forms to your audience
When you finish your meeting or webinar on Zoom, you can send a feedback form -Google Forms- and set it up so that every applicant who fills up the form gets their certificates automatically. You can thereby achieve an effortless way of certification and a strong, almost mandatory channel of feedback. To view our guide on how to integrate Google Forms with Sertifier, please visit this page.