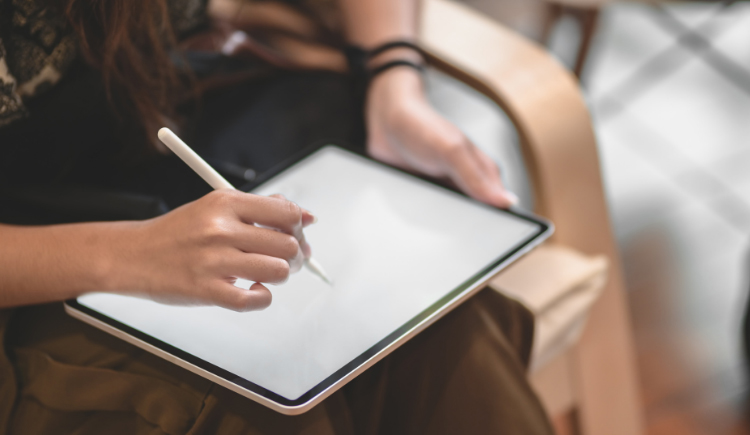 Contents
Creating a good certificate template can be a daunting task, especially if you're aiming for a high-quality, professional look. Thankfully, there are several tools available to help you design and customize certificate templates, without having to rely on poor-quality downloads from search engines. In this blog post, we will explore some of the best tools to create impressive templates, complete with examples and detailed explanations.
Photoshop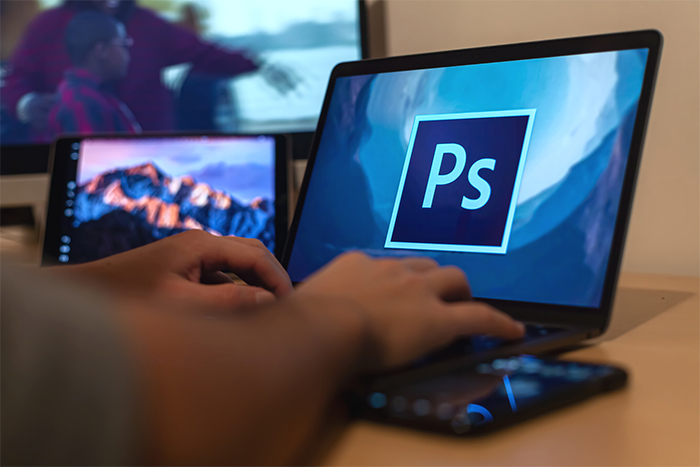 Adobe Photoshop is often the first tool that comes to mind when it comes to designing graphics. It is an incredibly powerful and versatile software that can be used to create certificate templates from scratch. However, it's worth noting that unless you already have access to Adobe Creative Cloud, purchasing Photoshop solely for creating certificate may not be the most cost-effective option. There are alternative ways to create high-quality templates for free or at a lower cost.
Example:
Using Photoshop, you can create intricate certificate template by layering images, text, and other design elements. For instance, you could start with a base layer featuring a subtle pattern, then add a border, a company logo, and finally, customizable text fields for the recipient's name, course title, and completion date.
Canva – Free
Canva is a popular web-based design tool that offers a wide range of ready-made certificate templates for you to use and customize. Its user-friendly interface allows even beginners to create professional-looking certificates with ease. Canva also lets you export your designs as PDF files, which is ideal for printing.
Example:
With Canva, you can choose from numerous certificate templates, such as "Elegant Achievement Certificate" or "Modern Course Completion Certificate." You can then customize the template by changing the colors, fonts, and text, or by adding your own images and logos.
Adobe Spark – Free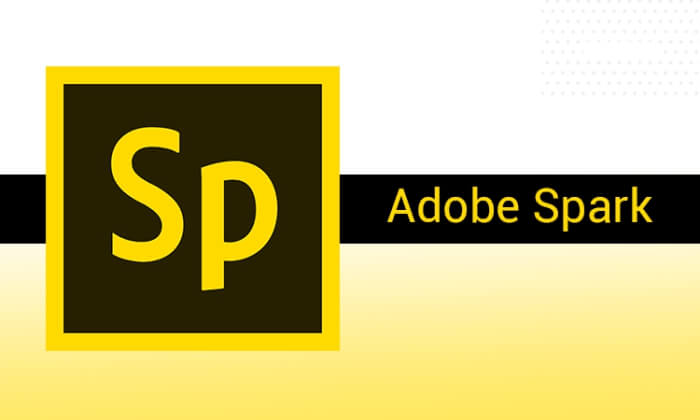 Similar to Canva, Adobe Spark is a web-based design platform that offers a variety of certificate templates. Both tools are user-friendly and reliable, allowing you to export designs as PDF files. However, there are a couple of differences to consider when choosing between them:
Canva generally has a better selection of certificate templates.
The free version of Adobe Spark includes a watermark, which cannot be removed without upgrading to a paid plan.
Example:
Adobe Spark provides templates like "Classic Certificate of Completion" and "Stylish Recognition Certificate." You can edit the templates by modifying the text, adding images, or changing the layout, but remember that the Adobe Spark watermark will be present in the free version.
Sertifier Designer – Free / Easiest Option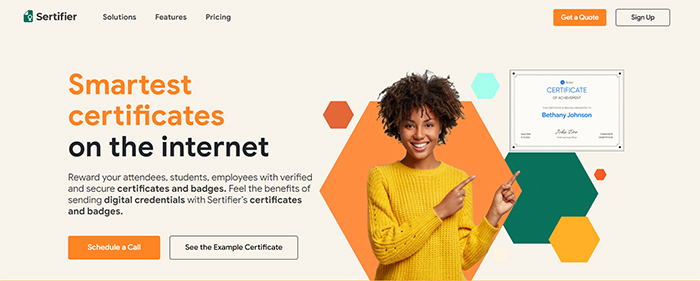 If you need to create certificate templates for multiple recipients, Sertifier' online badge maker is a fantastic choice. The free designer offers over 50 professional, ready-to-use certificate designs, and you can upload an Excel list with unlimited recipients. This makes it easy to create and export certificates for multiple people in one go.
Example:
Sertifier features well-designed customizable certificate and badge templates. After selecting a template, you can customize it by adding recipient names, course titles, and dates, as well as your organization's logo. Sertifier's premium branding features are also available for better online visibility and brand recognition.
Check out this video to learn more about Sertifier's digital credentials:
Sertifier – Best Option
For a seamless experience that lets you design, send, and store verifiable certificates and badges, Sertifier is the ideal solution. With the ability to send certificates to thousands of recipients in a single click, Sertifier streamlines the entire process. You can try Sertifier for free with a 7-day trial by following this link.
Conclusion
If you need to create multiple certificate templates for a large number of recipients, Sertifier is the best choice.
When choosing the right tool for your certificate template design needs, consider factors such as ease of use, customization options, and pricing. Ultimately, the tool that best aligns with your specific requirements and preferences will help you achieve the most professional and appealing certificates.
Additional Tips for Creating Good Certificate Templates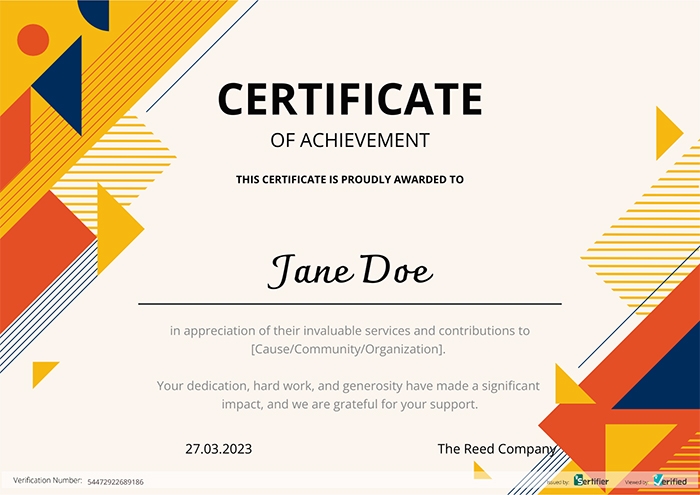 Consistent Branding:
Ensure that your certificate templates align with your organization's branding. Use consistent colors, fonts, and logos to maintain a professional and cohesive appearance.
Legible Fonts:
Choose fonts that are easy to read and appropriate for a formal document. Avoid overly decorative fonts that may be difficult to read or detract from the certificate's overall appearance.
High-Quality Images:
If you're including images or logos in your certificate template, make sure they are high-resolution to prevent pixelation when printed. This will give your certificates a polished, professional look.
Customization Options:
Choose a tool or platform that offers a wide range of customization options, allowing you to modify templates to suit your specific needs. This can include changing colors, fonts, and text, as well as adding images, logos, and other design elements.
Proofread and Edit:
Before finalizing your template, double-check for spelling and grammatical errors, and ensure all information is accurate and up-to-date. This attention to detail will reflect positively on your organization and the certificates you issue.
By following these tips and using the right tools, you'll be well on your way to creating outstanding certificate templates that recipients will be proud to display.